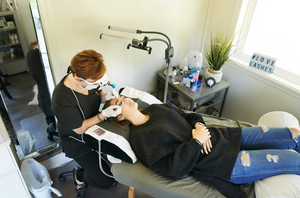 10 Qualities of a Good Lash Tech To Look For
Your eye health is important! It is important to go to a professionally trained lash tech in getting your lashes done.
They are trained in the science of lashes and can explain the process to you so you know what is going on, and have plenty of experience working with eye shapes and lash types. Lashes can be damaged if the wrong products are used, while wrong technique can be very damaging.
You'll be surprised with the difference a professionally trained artist can do for your lashes.
Below are Top 10 Qualities of a Good Lash Tech You Should Look For:
1. They always have a clean and sterile station.
2. They attend lash conventions, keep up with trends, read blogs, and watch tutorials so they are constantly learning new things.
3. They know how to cut the strip in a way that will allow them to cover more area.
4. They have been properly trained in classic and volume techniques.
5. They have the correct sized tweezers for their hand shape and size.
6. They will take time to answer questions and educate clients about the proper care for lash extensions.
7. They always follow a routine when it comes to prepping and setting up for a client.
8. They do not remove lashes without proper training or certificates to do so.
9. They realize that lash extensions are not for everyone, but are skilled at giving recommendations for alternatives based on each individual's natural lashes and desires.
10. They do not compromise the quality of the products they use on on their clients.

The Takeaway...
A good lash tech always put their clients first and avoid cutting corners where it matters most.
---