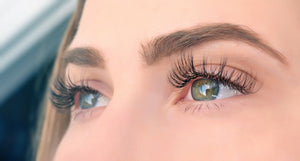 10 Things You Can Do Instead Of Applying Mascara Every Day
So, you've had lash extensions applied and you love them right? But just what are you going to do with all that free time now you don't have to spend time in the morning applying layers of mascara and time at night removing them? Here's some of our favourite suggestions:
Sleep a bit more – we all want more sleep and lash extensions will let you do that. No need to get up 30 minutes earlier to avoid having to rush your mascara and making a mess. Just spring out of bed and skip the lash steps.
Take up a new hobby or use the time to catch up with a hobby you've been missing. Maybe now's that time to write a novel or take up yoga? You did always say you were going to learn a new language didn't you?
Exercise. We know, we know, and we're sorry. But now that you'll be getting ready quicker in a morning/won't have to take loads of eye make up off before or after the gym, you might just be running out of excuses not to go for a jog. Or maybe a walk. Yes, that sounds better, a walk. And what's even better is that your lashes will still look flawless even whilst you're doing that exercise plus your endorphins will be flowing freely.
Make some travel plans – over a week, the time you save with lash extensions adds up so why not use that time to book a flight, book a hotel, book the time off work and get going. Don't forget to book in a lash appointment before you go
Catch up with someone who you haven't seen for a while – is there someone you keep meaning to catch up with but never quite get around to getting in touch? Now's the time! Carpe diem! Send them a text, slide into their DM's or just give them a plain old phone call.
General life admin – we all have those jobs that we need to get round to doing at some point but never seem to. Now's the time! Organise those photos, sort out those bills, file that paperwork, set up an online dating profile, make all of your lash extension appointments for the next 12 months. Get it done!
Pamper yourself – as much as in theory, mascara's a pampering thing, it's not really is it? It's just something you thought you had to do, like brushing your hair or cleaning your teeth. Now you have some spare time, do something that properly pampers you like getting a pedicure, or having a hot bath (not within 24 hours of getting your lashes done though, remember), or just throwing caution to the wind and sticking a deep conditioning masque in your hair. You deserve this!
Snacking with style – instead of hastily grabbing a piece of toast as you rush out of the door, why not get fancy and do something that takes a little longer? Cloud eggs? Something with avocados? The possibilities are endless!
Go shopping – but not for mascara, obviously. You don't need that stuff any more.
Contribute to society – you could use that little bit of extra spare time to volunteer at a charity of your choice once a month or even just to make a donation once a month. You already look like you were sent from heaven with your new lashes, so why not act like it too?
Or, you could event just check out the fantastic range of lash products that we offer here. Just sayin'…
---