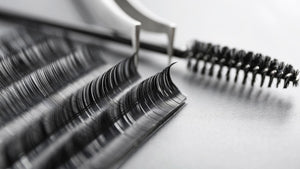 5 Tips To Ensure Longevity and Quality of Lash Extension Supplies
Proper storage of your eyelash extension supplies is essential for maintaining their quality and effectiveness. With meticulous storage practices, you can enjoy beautiful and long-lasting lash extensions while maximizing the value of your supplies.
Here are some storage tips that can help extend the shelf life of your lash trays and other supplies:
Adhesive Storage: Eyelash extension adhesives are a crucial component of the lash application process. To maintain their effectiveness, it's important to store them properly. Keep the adhesive tightly secured, especially when unused. Store it in a cool, dry place, away from direct sunlight and extreme temperatures. 
Lash Tray Organization: Proper organization of lash trays ensure easy access and prevents damage to the delicate lashes. Consider using a lash tray organizer or a storage box with compartments to keep your trays separate and organized. This will help maintain the shape and curl of the lashes and prevent them from becoming tangled or bent.

Tool Maintenance: Tools such as tweezers and lash brushes are essential for precise lash application. After each use, clean them with a gentle lash cleanser or an alcohol solution to remove any adhesive residue or debris. Once dry, store them in a clean and dry container to prevent contamination. Avoid placing tools in an area where they can come into contact with moisture or other potentially damaging substances.

Sanitation Practices: Maintaining a hygienic environment for your lash supplies is vital. Regularly clean your storage containers or boxes with a mild detergent or disinfectant to eliminate any potential bacteria or contaminants. This practice ensures that your supplies remain clean and ready for use, minimizing the risk of infection or allergic reactions.

Temperature and Humidity Considerations: Extreme temperatures and high humidity can compromise the quality of your lash extension supplies. Avoid storing them in areas that experience significant temperature fluctuations or excessive humidity, such as bathrooms or near windows. Instead, opt for a cool, dry place with stable temperature and humidity levels to prevent adhesive deterioration or lash deformities.
---