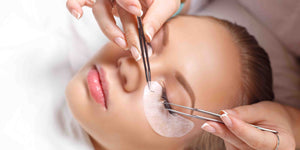 6 Myths About Lash Extensions
There are a lot of myths that exist about lash extensions and treatments – we're dispelling some of the myths today and sharing the truth about lash extensions to help you have these conversations with clients and educate them so that they can take better care of their lashes.

1. Lash extensions ruin your natural lashes
With the correct application and type of lashes for a client – along with correct aftercare and removal – lash extensions shouldn't damage natural lashes. By using the right weight and style of lashes for a client you can ensure that their own lashes can come with the addition of lash extensions. Clients may complain that their lashes look or feel much shorter than before but this is likely to just be because they've been used to longer and fuller lashes from having extensions.

2. You can go as long and thick as you want with your lash extensions
With lash extensions, there is a limit to what can be done. For the most part, you can only really work with what a client has. If they have short, sparse lashes and want full, long Kardashian style peepers you may need to help them to have more realistic expectations. While lash styles can be customised (take a look at our range of lash extensions) it really does depend on the natural lashes that are available to add each lash extension to.

3. Semi-permanent lashes last for months
Sort of. With the right aftercare, and regular maintenance appointments lashes can last for around 6-8 weeks. It's important to manage these expectations with the clients so that they understand that it isn't a case of getting the extensions applied once and then not having to take care of them for months afterwards.

4. You can wear make up as much as you want
A client can in theory wear as much make up as they want with lash extensions but it's important that they understand that the amount and type of make up that they use (and how they remove it) will impact on the longevity of their lash extensions. Proper aftercare is key to maintaining lash extensions.

5. Your eyes can get glued closed
This is a common fear with lash extensions and one that can easily be dismissed – an experienced lash technician they should be skilled and careful enough that this isn't a risk. Top and bottom lashes are separated using eye pads but if any lashes do get caught they can easily be separated with minimal risk.

6. They always look fake
People wear lash extensions every day – and for the most part, people can't always tell. Lashes are always customisable with what the client has in mind.
---