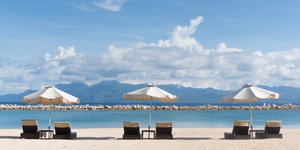 8 Reasons Lash Extensions Are Perfect for Holidays
If you're going on holiday this summer, whether it's a trip with the girls, family holiday or a romantic getaway with your partner, here are 8 reasons why you should get lash extensions:

1. Start your holiday early
With some relaxing pampering at your lash salon – what's better than lying down and relaxing with your eyes closed while you get gorgeous? That sounds like the perfect start to a holiday to us!

2. Look glam on your flight
We've all seen paparazzi photos of celebrities jumping off a plane looking amazing whereas us mere mortals never quite look as photo-ready. Lash extensions won't suddenly propel you to celeb status but can definitely help you to step off that flight looking flawless and feeling fine.

3. Cut down your getting ready time
You don't want to spend hours getting ready on holiday, so don't. Lash extensions will significantly reduce the time it takes to do your make up so you'll have more time to enjoy your holiday.


4. Water and weather
Usually eye make up, especially mascara, won't stand up well to these changes in temperature, environments or humidity. Lash extensions will so you can relax and enjoy swimming, surfing or laying on a beach – whatever holiday activity suits you.

5. Lighten the load
You won't need to pack false lashes, mascara or eye make up remover. Ok, none of these things are humungously heavy but at least you'll have a little more space to pack some extra bits and pieces.

6. Look great wherever you are
From breakfast to beach to bar, your lashes will stay looking great and won't be something that you need to think about while you're away.

7. Make up removal becomes a breeze
We all go a little lighter on make up on holiday but it still doesn't make removing your make up at the end of a night any less annoying. ESPECIALLY eye make up and loads of mascara. Not any more! Lash extensions make your removal much quicker so it's much easier to get into good habits with taking your make up off at night.

8. Get over the holiday blues
With a relaxing lash appointment in the salon. You've just got back from having the time of your life, you're back at work on Monday and it's raining – treat yourself to some pampering and ease yourself back into post-holiday life!
---