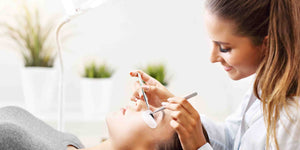 Aftercare Advice for Your Lash Extension Clients
No matter what type of lash extensions your client has, aftercare is usually a key part of ensuring that lash extensions stay looking lovely for longer. Reminding your clients of aftercare best practice after their lash treatment is a good idea to help prolong the life of their lashes.
We've put together some of our top tips for clients following their appointment:
• Try not to have a hot bath or shower for 24 hours after your lashes have been applied
• Try not to rub at your eyes or pull out your lashes – dry your eye area carefully and consider using cotton pads to clear
• Avoid using eye make up where possible – if you have to, use oil free products
• Using oily cleansers, eye creams or moisturisers on your eye area will loosen the bonds
• Don't tint, perm or use lash curlers on your lash extensions
• Use a lash comb or a clean mascara wand to keep your lashes in check
• Keep up your maintenance appointments
• If you want to remove your lashes, let a professional take care of it to ensure that you don't do any damage to your own lashes
Putting together an aftercare pack (and absorbing the cost of this into your lash treatment) for your client with
lash wands
, these instructions and the date of their next appointment can be a great way to encourage them to follow your advice. It's always best to ensure that you have plenty of
gel lash remover
in stock too in case your clients want to remove their lashes safely and with minimal damage to their own lashes.
It's important to use good quality lashes that are the right shape, length, shape and weight for your clients own lashes to ensure that natural lashes aren't damaged and that your client gets the expected wear time from their lashes.
By building up a good rapport with your client and finding out the type of look that they want from their lash extension – natural, dramatic, wispy or something else entirely – before you start applying the lashes. Obviously your client has to have enough lashes, and lashes that are long enough, to add to so that they achieve the look that they want.
By encouraging your clients to follow these tips, and following your own best practice to ensure a quality service, it should help them to prolong the life of their lash extensions.
---