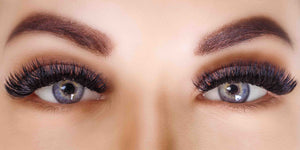 Celebrity Lash Looks that Clients Want
It's rare to spot a photo of a celebrity these days – especially if they're "on duty" – without any type of lash enhancement. From Instagram to Vogue everyone is getting lashed before their close up. With such a strong influence on clients, it's likely that they'll be using a celeb lash style as their point of reference for what they want their lash extensions to look like when they leave the salon.

It's always important to keep up with lash trends and to make sure that when your clients ask for a certain style or ask for lashes like a particular celebrity, you know what they mean and there's no difference in expectations. It's also important that you understand how to create these different last styles in salon and can communicate with your clients to let them know if their desired look can be achieved using their own lashes as a base.

Here's a round up of the lash looks that clients request most often in the salon – it turns out the Kardashian-Jenners are some of the biggest "lashfluencers" going in the celebrity world:

Emily Phelps, lash artist, The Eyelash Guru, North Hollywood, California: "Clients always ask to have lashes like Kim Kardashian's. Little do they know most of the time she is wearing a strip. When they tell me they want a 'Kim K.' look I know that means they like their lashes very dramatic."

Diane Lytle, owner, TheLashChick, Wasilla, Alaska: "Kim Kardashian. No matter the age, our clients want their lashes big, bold, beyond thick and long, and sometimes a little spikey."

Courtney Akai, owner, Courtney Akai Lash Boutique, NYC: "Half of my clientele loves Kylie Jenner-inspired lashes; they're more dramatic, feathery, varied textures, longer lengths, full and lush. The other half is a bit more conservative; they always show a picture of Angelina Jolie. These lashes are usually shorter, wispy and very pretty."

Shannon Loar-Coaté, owner, Blush and Lashes, Santa Barbara, California: "It used to be that 'Kim Kardashian' look that's very extreme, but now it's more Kendall Jenner; her lashes are more natural, short and full. I call them the 'flirt' lashes. I find my clients are more natural ... they want to look glamorous … but they [also] want to look real."

Make up artist Wei Lang, said: "People always ask me for Beyonce lashes – she wears mink ones and it's something people really seem to like."

Need help to achieve these different last styles? Check out our range of lashes and tools to help you get results for your clients!
---