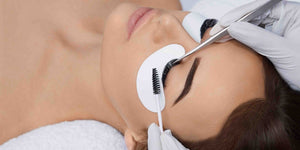 False Lashes Create Real Looks
Are you still waiting to get on the false eyelash trend? What if you could wake up with lush, full lashes without the fuss everyday? Maybe it's time to try some fake lashes!
If you don't want to make the first attempt yourself, find a good salon. We'll be profiling some in our blog - especially New Zealand salons - so check back soon to see if we've featured one near you!
It's a simple process, they can last for weeks and they really make your eyes pop. The quality and style of the lashes these days makes them look so natural even your partner might not be able to tell they are fake!

So what are you waiting for? Give them a try and enjoy the beauty they add!

For tips about making the right choice with your extensions, check out this article:
---