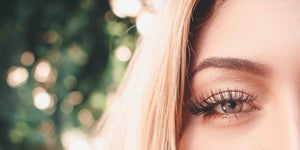 Lash extension A-Z - what's the difference?
The variety of different lash styles out there can be overwhelming – especially if you're just starting out in your lash career or you tend to stick to the same lash styles. Your clients' lashes, and the look that they want, will always be different so it's important to understand what lashes work best for your client.
We don't quite stock lashes in styles from A-Z, but we do have B, C, D, J, L and 3D lashes in stock in a variety of lengths to suit natural lashes. Here's a quick run down of the style of each lash and who they work best for:
Best for clients with a straight lash who want to add curls, B curls are a good in-between style for clients who want to a more natural look where they can just look like they woke up with great lashes.
One of the most popular lash extension styles, the C curl gives a wide-awake, curly lash look. The effect is similar to using eyelash curlers and if the right length is used it can really help to open the eyes up.
These lash extensions offer a tighter curl than the C curl and suit clients who have a natural curve to their lashes or have short natural lashes. They give a really open and wide-awake look and often suit clients who want a more bold or glamorous look. If your client wants fluffy lashes then D curls can help to achieve this. Remember, if these are use on straighter/shorter lashes they may not last as long as they would on a curly client.
For clients with straight lashes, a J curl is for when your clients lashes are just too straight to take a curlier style as it just won't last. J curls will sit straight on the clients lash but will curve up as needed.
For really straight lashes (that almost, or do, point downwards) we recommend using an L curl lash. These are for your clients who are died hard lash curlers and have tried everything from perms to heated wands. The curl is much sharper and more defined than in other lash styles which gives a flatter
Perfect for clients who have sparse or damaged lashes, 3D lash extensions effectively "triple up" on volume. They look like one lash joined at the base and split in three. Remember, you can always combine lash styles to give a more realistic style that enhances a client's natural lash.
So there you have it! If you have any questions or would like to see a sample of any of these styles, just get in touch.
---