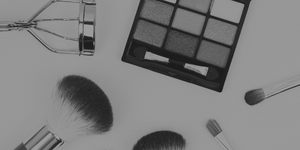 Lash Extensions - A Brief History
We're bringing you a quick run-through of lash extensions and enhancements over the last century to demonstrate just how far the industry has come since its beginnings in stage and screen. Most people agree that the era of the silent movie was when lash extensions first started – over 100 years ago!

Serums, pomades and advice for longer lashes have been recorded as far back as the early 1800's with women being advised to cut lashes to help them grow longer (we definitely don't recommend this!). There were also reports in the late 1800's of women sewing human hair into their lash line (or this, under any circumstances!) – something that even the most die hard lash enthusiast would probably recognise as a little extreme.

Moving forward to lash enhancement rather than growth, primitive lash extensions were made from human hair sewn onto fine gauze as early as 1916 when director D.W. Griffiths suggested that he wanted his lead actress in the film Intolerance to have lashes "that brushed her cheeks, to make her eyes shine larger than life.

Artificial lashes – that is, no longer made from human or animal hair – became more popular in the 1940's and 50's along with more natural application methods such as flares or clusters, enhancing natural lashes rather than obscuring them.

The swinging 60's were when false lashes and extensions really became mainstream. Remember the iconic photos of Twiggy and other models of that era with dramatic, over-emphasized "doll-baby" lashes. Lashes were bold, voluptuous and dark, tending to be glued in strips or clusters to the lash line and paired with eyeliner and shadow for maximum impact. Again artificial lashes were popular as were those made from human hair.

The early 2000's showed a further leap in the industry, with individual salon-applied lash extensions becoming popular and false/strip lashes improving in leaps and bounds to become more natural. Again film and popular culture has been a key influence of this - media, celebrity and fashion influences along with the accessibility of make up and beauty products enhanced the market for long, fluttery lashes.

What about in 2016? Modern lashes are lightweight, natural and can give a variety of different lengths, thickness and styles to suit natural lashes and preferred style. It's now more difficult than ever before to work out who is wearing lash extensions and who has naturally great lashes. For the latest in lash extension styles, why not check out our range of quality lashes?
---