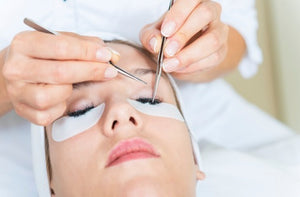 New Eyelash Extension Products for Lash Artists
Just in case you've missed them - here's a rundown of the newest products available to you!
Eyelash Glue for Sensitive Eyes
We're sure everyone has some clients who are more sensitive to eyelash adhesive than others. That's why we're now stocking a new glue designed to be gentler. It's formulated to be hypoallergenic.
Cream Eyelash Adhesive Remover
Are you looking for a thicker eyelash glue remover? Try this new remover which has a different consistency so it stays in place and prevents seepage into eyes. It's fast and effective and specifically designed for dissolving lash glue.
Anti-Clogging Eyelash Glue Nozzle Pins
Sick of dealing with dried bits on your eyelash adhesive bottles clogging them up? We now have pins you can insert into the nozzle of an open bottle to prevent it from clogging.
D+ Curl Lashes
These are also known as U Curl Lashes and they are our usual high quality silk lashes with a glossy black finish. We'll be expanding the lengths soon too so check back if you want other lengths.
Clear Lash Sealant
Clear eyelash extension sealer adds shine to eyelash extensions by creating a protective barrier on the lashes, helping to repel dust and dirt. Might be a good one to stock for your clients to offer them a free sealer application and a reason to drop into your salon weekly!
As always, we love to hear your product suggestions and requests so please send them directly to info@nzlashes.nz. 
---