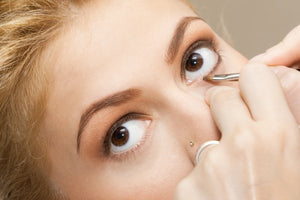 What are the Benefits of Exhibiting and Attending Beauty Trade Shows?
Exhibiting at a trade show tends to be something that manufacturers or suppliers take part in more than an individual salon or lash specialist (however this varies from show to show) – they may be introducing a new product, promoting a new way of training or just be looking to raise their brand profile.
However, it's still worth attending trade shows even if you're a attending as an individual. Trade shows can be invaluable to learn about new products and services, training and industry innovation. It's also a great opportunity to meet new people, network in the industry and reconnect with old acquaintances in the lash industry.
Find out about new products and training
Education, education, education. They say you never stop learning, and that's certainly true in the lash industry with new products, application methods and styles coming all of the time. Maybe you've been thinking of checking out a certain training provider for a while but have never got round to it, or perhaps you've wanted to learn a specific skill or new application method? If this is the case, you can probably get all of the information or sample packs you need at a trade show – and maybe even pick up some deals on products or training whilst you're there!
Make connections
Ever heard the saying "it's who you know"? There's a reason for that! Trade shows can be a great place to connect with industry experts, your peers in the industry and training providers for the future. You never know where there could be an opportunity for you and your career, by forging these relationships you can maximise these opportunities. Take business cards, ensure that your lashes are looking great and ensure that you come ready to get to know people.
Enhance your reputation
Showcase your professional work by taking part in competitions or running a demonstration for your supplier/training provider. Let your work speak for itself and build your reputation in the industry as a professional. There will be opportunities to attend seminars and educational events to build your reputation and continuing professional development.
Keep an eye on the competition
Maybe you've heard about a great lash technician in your area but haven't seen their work? Or you want to find out about the hot new lash style that another training provider has developed? Now's your opportunity to do a little research and reconnaissance to find out more about your competition and work to develop your skills.
Our top tips for trade shows are:
Book early to take advantage of early bird deals and specials – this counts for seminars or demonstrations too, the most popular will get booked up quickly
Arrange meetings with trade exhibitors in advance – if there's a particular exhibitor you want to meet with or a popular brand you want to meet with, try and book in advance to ensure you're actually seen on the day
---