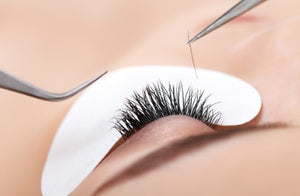 What Makes Lash Extensions Perfect for Any Season?
With the possibility of rain ever-present, lash extensions are your key to staying looking flawless whatever's happening with the weather.
Depending on where you're at, here's a quick round up of why lash extensions suit every season to help you market to clients effectively:
Spring
Did you know that "Spring Lash Shed" is a thing? No? Probably a throwback to our mammalian heritage, Spring is the first round of hair loss in the year before Autumn. Our bodies prepare for the coming warmth and reduced humidity by shedding (all over, not just lashes) so if you're feeling like lashes are looking sparser than usual then this could be why. Remember, you can have lash extensions that are for thickness as well as length – check out our range of lashes.
Summer
Warmer weather, sand, sea and travel can all make wearing regular make up a bit more difficult to keep looking fresh. Couple this with more parties and social events (like weddings where there a lots of photographs being taken!) happening over the holidays and lash extensions quickly become a great option to enhance your eyes and keep them flawless whatever the summer weather is throwing at you. You can swim, surf or sail to your hearts content with your lashes on so no need to worry about your make up running away.
Autumn
Similar to Spring, Autumn is another shedding season unfortunately so you may wish to turn to lash extensions to give your natural lashes a boost. Autumn is obviously also a season where the weather starts to change for the worse so lash extensions will help you battle the elements.
Winter
With cooler (and more changeable) weather, winter brings its own set of challenges with wind, cold and generally more rain around. This can make it much more difficult to keep your make up from running and staying look good. Never fear – lash extensions can keep your eye make up looking great even if you experience all four seasons in one day! Maybe you're heading off for some winter sun? Lash extensions are also the perfect holiday addition so bear them in mind.
Remember, whatever the season it's important to ensure that aftercare advice is followed to get the best results and longevity from your lash extensions!
---