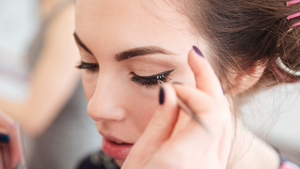 Lash Extensions or False Lashes: Which Team Are You?
Lash Extensions vs False Lashes
Every ladies dream is to have long luscious lashes but bot everyone is naturally blessed to have one. Who wouldn't like to have the "I woke up like this" look…well, the rest of us dream of it and so we normally put on layers and coats of mascara just to get close to the look that we want however, we've got 2 solutions we normally resort to and here are some thoughts about them.

Confused and don't know the difference between the two?
False lashes are the strip lashes that we normally buy over-the-counter at the beauty stores or drugstores while the lash extensions are mink or silk individual lashes applied by a trained professional lash tech using a special lash glue. Individual lashes are adhered on top of your own lashes.
If you do not want to put on coats and layers of mascara, then both these are great options to give you a look of long natural looking lashes
Advantages of getting lash extensions over false lashes
Great option if you are super busy and wanted the quick "I woke up like this look"
Great if you are going on a trip or to the beach as they will last you anywhere around 3 weeks.
Perfect during weddings as you can get them done a few days before that you carry through your honeymoon.
If professionally done, it won't harm your natural lashes.
You can choose the look that you want, natural or volume, plus the lengths and curls too!
---